GETAWAYS WITH FRIENDS AND FAMILY STAYS
If you are looking for a relaxed holiday, plan a stay with friends or family at our farmhouse. The buildings are situated around a grassy and private courtyard protected from the curious eyes of passers-by. The entire farmhouse is only rented to one group, so you are guaranteed to enjoy privacy and a safe space for your children.
ACTIVITIES ON REQUEST
To those interested (3 clients minimum), we offer cosmetic treatments and massages using high quality French cosmetic products by GERnétic. We can also arrange a canoe trip down the Berounka river or a Nordic walking session.
HAVE FUN AT LOCAL FARM NEARBY
We can arrange horse riding lessons at a local farm. Beginners and children under 3 years stay practicing at the farm, while more experienced riders can enjoy an outdoor excursion with an instructor. Safety helmets can be rented. The farm also organises guided tours and an opportunity to see farm animals. The price depends on the number of visitors. You can also go fishing at their private pond or visit their restaurant, which is open to visitors.
COSY ATMOSPHERE AND HIGH-QUALITY EQUIPMENT
The farmhouse can host celebrations for up to 50 guests. It can accommodate 30 people (with extra beds, up to 37).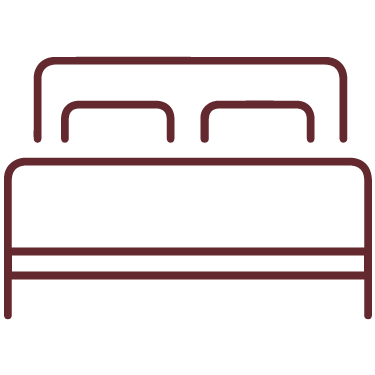 ROOMS
9 double rooms and 3 rooms for four people with a sleeping gallery. Some rooms come with extra beds. All the beds come with high–quality mattresses and rustic linen sheets. The rooms are furnished with comfortable armchairs and offer enough storage place.
To pamper the birthday person or newlyweds, we can arrange a special night with luxurious products in one of the rooms.
Each room has a private bathroom with a massage shower, sink and toilet. Towels are provided.
All of our rooms have rustic wooden floors treated with natural wax or oil. The house is equipped with central heating.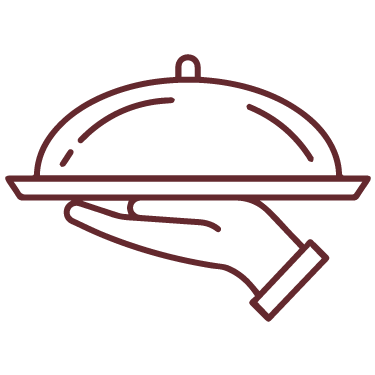 DINING HALL
The open kitchen is connected to the dining room (lounge) with a wood burning fireplace, 30 seats (in various arrangements) and a children's play area.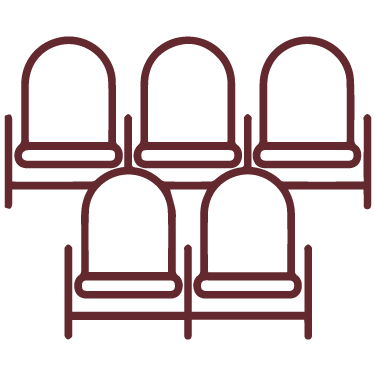 CONFERENCE HALL
The multi–purpose spacious hall (80 square metres) with wooden flooring is a stylish place for festive lunches, dinners, banquets, dancing or board game nights. It sits 45 people and is equipped with a wood burning fireplace, built–in sound system, data projector and screen. We can, of course, decorate it to your liking. Since the farmhouse is located in the middle of a quiet village, noise restrictions must be respected: music can only be played in this room and the volume must be lowered after 10 pm.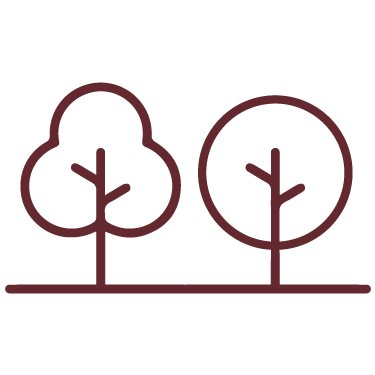 GARDEN
The spacious grassy courtyard and other outdoor areas are hidden from the curious eyes of passers–by and offer plenty of space for various activities. You can use the summer roofed terrace, playground, climbing frames, table tennis, darts, trampoline, or play pétanque. Bikes, strollers, and motorbikes can be stored in a lockable storage room.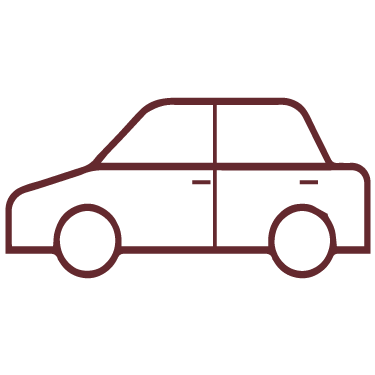 PARKING
Free parking is available in the enclosed courtyard.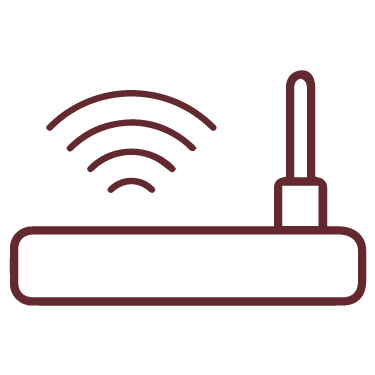 Wi–Fi
Wi–Fi is free of charge in the entire place.
WOULD YOU LIKE TO BOOK A STAY FOR YOURSELF AND YOUR FRIENDS AT OUR FARMHOUSE?
The beautiful natural setting of the Křivoklátsko Protected Landscape Area and the Jesenicko Nature Park offers many opportunities for hiking or cycling, fishing, swimming in the ponds, picking mushrooms in the surrounding forests or tennis matches at nearby clay tennis courts. You can also visit several small breweries, the medieval castles of Křivoklát, Krakovec, and Krašov as well as a number of prominent Baroque jewels built according to the design of Jan Blazej Santini – the monasteries of Plasy, Mariánský Týnec and Kladruby.
The small village square in Břežany has an asphalt playground, and a typical rural pub while another family pub is located on a nearby farm. Grocery shopping is possible in the surrounding villages and towns – Kožlany 3.5 km and Čistá 2.5 km far away.
"We want to thank you for a great four-day stay at the end of October. All of our nine families with children immediately felt at home on your farm! We had a blast in the beautiful and clean setting of your place. The kids had a great time, the wives had a great time, and of course the dads did too. Mr Kavan's beer service was perfect and the ham was also unforgettable. Not to mention the great cycling opportunities – everything was just flawless. We also appreciate your kind attitude – we've organised a number of similar weekend trips in all parts of the country, but nowhere have we received such a warm and personal welcome from the owners with a loaf of bread and homemade spread. "
– Alan Hejma
"We would like to thank you again for the incredible weekend, and for the above–standard approach and service. Thanks to you, my husband's sixtieth birthday (which he originally wanted to celebrate only with his family) became an unforgettable experience. I got a very lucky hand in choosing your magical place, and you two and your co–workers are the magicians who deliver the impossible. The three days spent with you were pure magic. Our family and friends sang the praises of the homey atmosphere, the comfort and the tastefully renovated areas. I must not forget the delicious cakes and meals you served. Thanks, and respect to all of you. It is hard to believe that there are still people who do their job with such enthusiasm and care! I wish you much success in the future. We will certainly come back to you in the future."
– Mr. and Mrs. Fibich
"Despite the fickle weather, we had a great time at your farm. The environment was just unique, exceeding all my expectations. All the rooms renovated and furnished simply, tastefully, with a modern touch and yet, with respect to the traditional architecture of a country house. We have stayed in similar places and in terms of comfort, privacy, and facilities for children, Břežany was definitely the best. The quality/price ratio is also beyond comparison."
– Mrs. Frolík
"I was lucky enough to stay at your farm over one weekend in April. I adored the beautiful and tastefully renovated premises, privacy, tranquillity, quietness and top-level service. No visitor should miss the culinary specialties of your chef. Everything tasted like heaven – he deserves a Michelin star! Thank you, and I wish you many more happy guests!"
– Ilona Rosí