A tastefully renovated farmhouse from 1850 nestled in a quite village on the border of Central and West Bohemia.
ENJOY TRANQUILITY AND COMFORT AT BŘEŽANY FARMHOUSE
The family-owned farmhouse is centrally located in a quiet village with 120 inhabitants, less than an hour by car from Prague or Pilsen. Enjoy the peaceful and relaxed atmosphere, first–class service, and modern design of the house as well as a wide variety of activities and services in the surrounding area.
Our farmhouse is a great choice for small groups of friends or families with children. You can enjoy the entire house, its comfortable facilities, a grassy and private courtyard and make yourself at home for a couple of days.
Read more…
CELEBRATIONS AND WEDDINGS
Břežany Farmhouse is the ideal place to celebrate your life's big moments such as anniversaries, parties, and reunions.  We will take care of all the preparations to suit your wishes and our chef will deliver an unforgettable culinary experience.
Read more…
Our 80 square–metre conference hall fits up to 45 people seated at tables. With its rustic oak floor and warming fireplace, it is perfect for training events and gala receptions. The room is equipped with projection and sound systems.
 Read more…
The farmhouse's lush grassy grounds and spacious oak–floored hall lend themselves perfectly to yoga, meditation, dance retreats and other sports outings. Its cosy, tranquil and relaxed atmosphere will leave you in awe.
Read more…
Motorhomes and caravans are welcome to park at our meticulously maintained, quiet and easily accessible lot surrounded by an apple orchard. The ground with an area of 4,000 square metres offers electricity access.
Read more…
BŘEŽANY FARMHOUSE IN NUMBERS
The farmhouse can accommodate 30 people (with extra beds, up to 37)
9 double rooms with private bathroom and toilet
3 rooms with a sleeping gallery for 2+2 persons with private bathroom and toilet
Conference hall of 80 square metres with a capacity of 45 seats at tables
Dining room for 35 people with wood burning fireplace
Infrared sauna with relaxation room
Enclosed grassy courtyard with outdoor seating
Orchard of 4,000 square meters with parking places for 4 caravans
Parking for 20 cars in the courtyard
The entire farmhouse for your exclusive use.
The Břežany Farmhouse is always rented as a whole, so nothing and no one will disturb you during your stay.
Cosy rooms with Wi–Fi access.
The rooms are comfortably furnished with high–quality beds with rustic linen sheets and separate bathrooms with massage shower and toilet. All rooms have Wi–Fi access.
Culinary specialties from our masterful chef Václav.
We pride ourselves in the refined cooking of our chef Václav who will take your requests for dishes to delight you. You have access to the fully equipped cooking facilities adjacent to a comfortable lounge with a wood burning fireplace.
Non-smoking policy.
All indoor areas are non-smoking.
Fun and relaxation for children and adults alike.
Your children will love the playground area with a trampoline and sandpit in the enclosed courtyard. You adults, on the other hand, will appreciate the infrared sauna with a relaxation room as well as the possibility to organise a barbecue evening with a keg of beer or wine of your choice.
Fully equipped multi–purpose conference hall.
The 80 square meter conference hall with a wood burning fireplace and a capacity of 45 seats can be used for indoor sports activities, dancing, seminars, or gala receptions.
INTERESTED IN HOLDING YOUR EVENT AT BŘEŽANY FARM?
Even though we do not run a restaurant at the farmhouse, we can enrich your stay with an unforgettable dining experience. Share with us your culinary preferences and our chef will present you with a bespoke menu.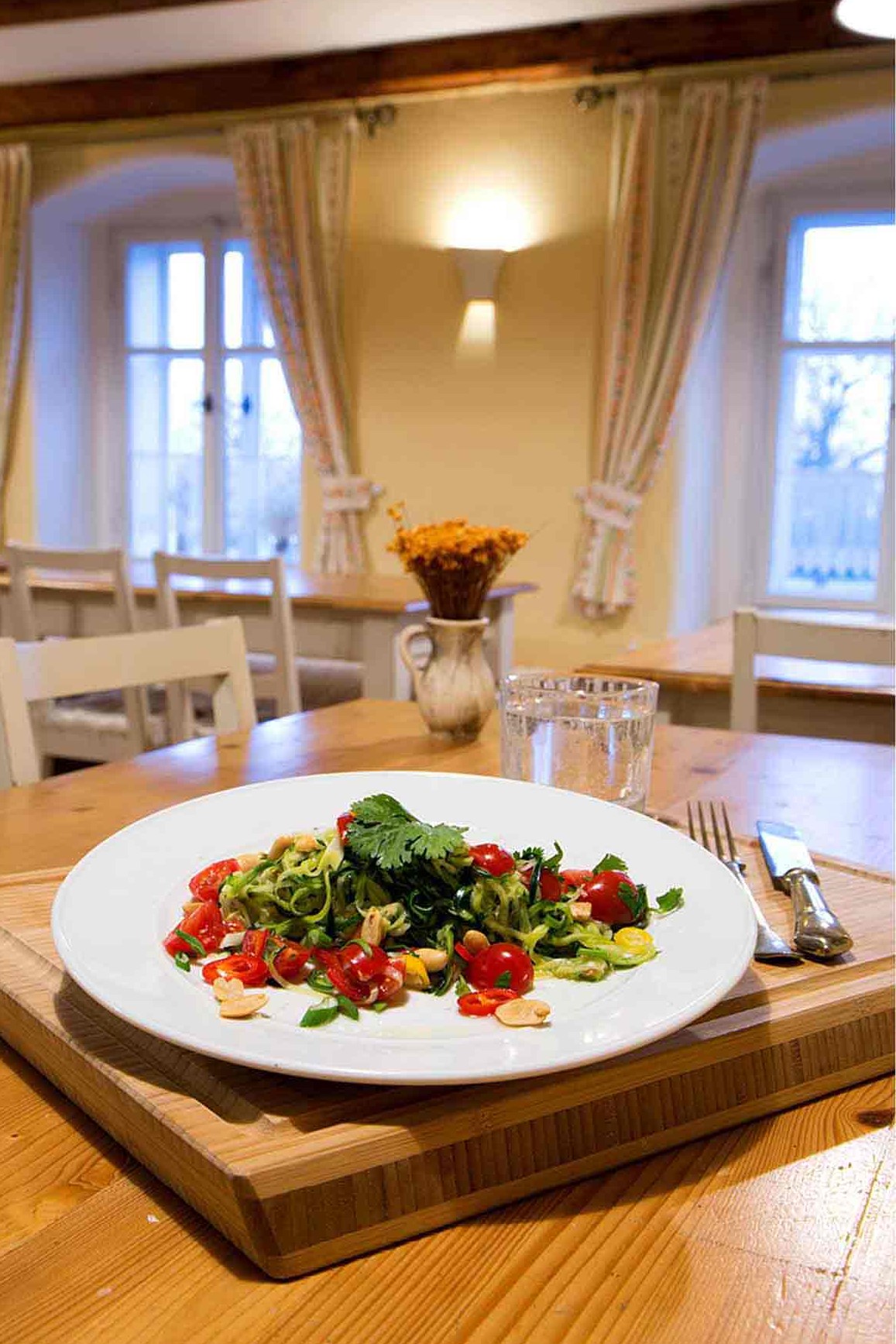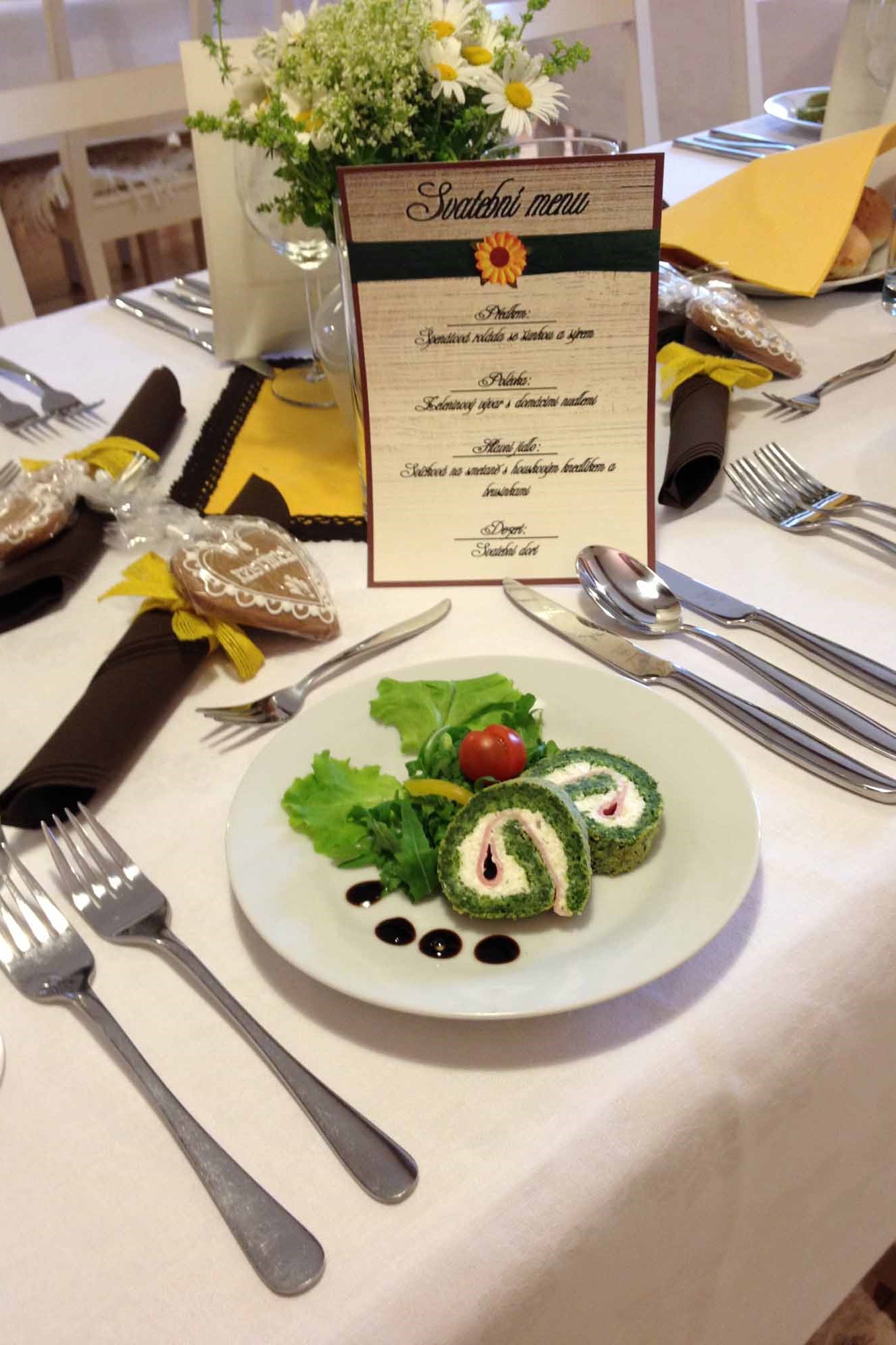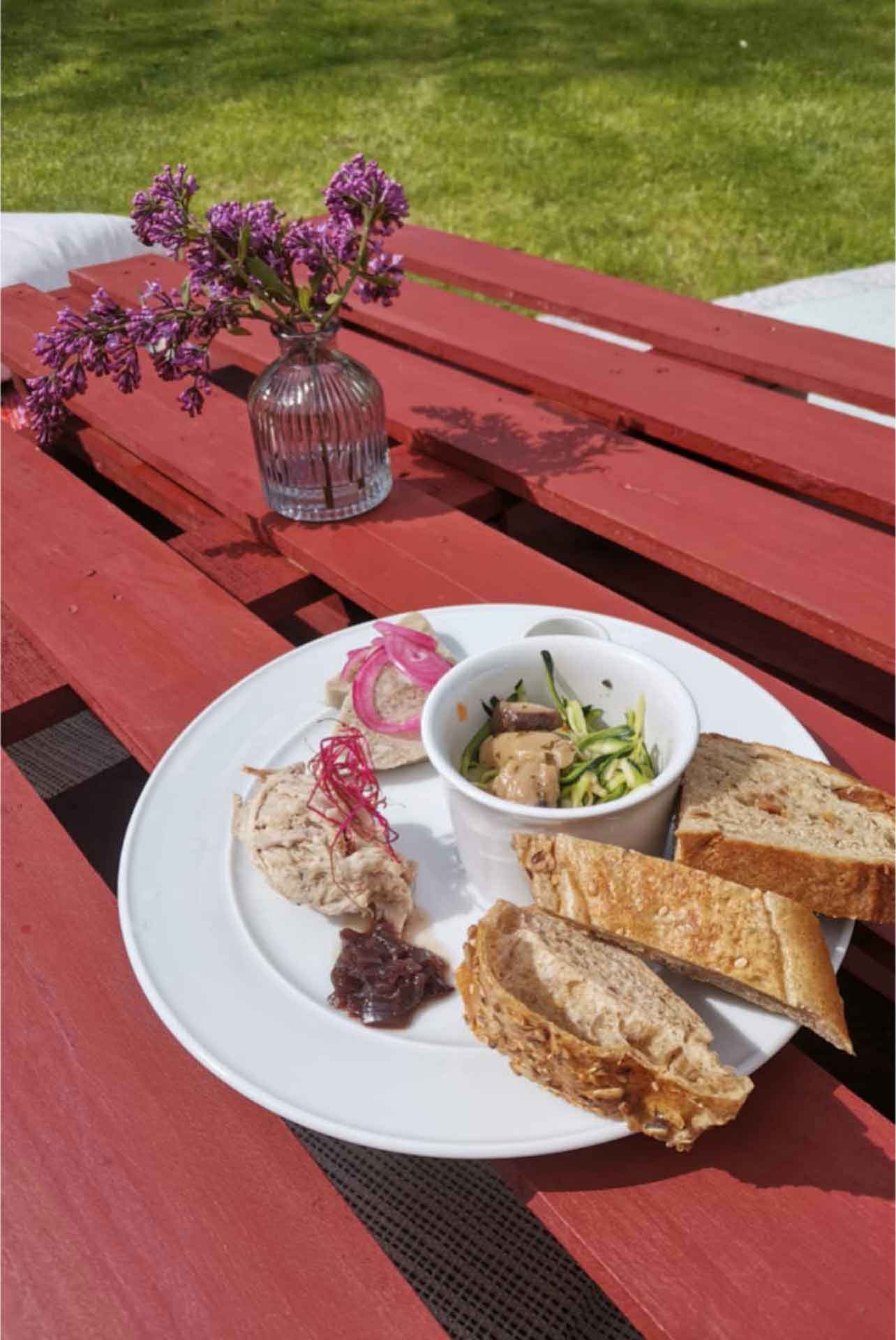 "I was lucky enough to stay at your farm over one weekend in April. I adored the beautiful and tastefully renovated premises, privacy, tranquillity, quietness and top-level service. No visitor should miss the culinary specialties of your chef. Everything tasted like heaven – he deserves a Michelin star! Thank you, and I wish you many more happy guests!"
– Ilona Rosi
"We are really glad that we chose the Břežany Farmhouse for our wedding day. Our wedding was just a dream come true, thanks to the friendly service, great food, and the very accommodating approach of the owners. Our guests were all thrilled with the venue and everyone spoke highly of the food. We want to thank the whole team and especially the owners for a fairy tale wedding."
– Mr. and Mrs. Círa
"Mr. Kavan, We want to thank you for our pleasant stay at your farmhouse. The place is charming and pristine clean and the services and approach highly professional and welcoming. In short, everything was great. The food was delicious: homemade, unrushed and substantial – just like that of our grandmothers. Everyone was thrilled and we all agreed that Břežany will be our number one choice for our outings in the future. See you again next year!"
– Solutions and Services, a.s., sales team
"It is quite rare today to read wonderful reviews and then find the place truly as great as promised. And even better than one could imagine. I find it very inspiring, and I have great appreciation for all the hard work and love that your family devotes to running the farmhouse. It is palpable – you can feel it all over the place. I can't wait to come again and wish you many more clients that will enjoy the same."
– Bára Dvořáková